---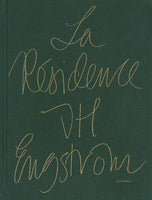 JH Engström: La Résidence
Regular price 450 kr
Tax included.
"In photography, JH Engstrom isn't trying to explain, but rather to render a profound experience of the absurdity of the human condition. These images moves us into a disquieting part of ourselves: our solitude on earth."
That is how Jean-Louis Godefroid ends his foreword to JH Engström's book, the result of two scholarship sojourns at the Contretype photo organization i Brussels. The book consists of 29 triptychs of a snapshot character, sandwiched by diary reflections and 29 photos harbouring those characteristics that have turned JH Engström into one of the most revered Swedish photographers.

In Foam photo magazine, Nan Goldin wrote: "JH Engström is never an easy read. I usually have a facility for perceiving a photographer's intentions through viewing the work, but with JH it's about learning a new language. The intensity of each moment one experiences with him is seductive, inspiring – " and he's always struggling to be more alive. He hovers, restless, questioning, circling ... The genius of this project lies in the juxtaposition of his displacement, his unease in the normal environment he finds so banal and the comfort and familiarity he feels in the tedium of bar life."

116 color images • Foreword by Jean-Louis Godefroid • Text by JH Engström • Text editing: JH Engström, Gösta Flemming • Text translation: Martine Desbureaux, Maria Ridelberg-Lemoine, Linda Schenk, Einar Heckscher, Gösta Flemming • Picture editing: Greger Ulf Nilson, JH Engström • Design: Greger Ulf Nilson • Hard cover • 184 x 248 mm • 180 pages • 29 fold-outs • Swedish/French/English • 2010

Diploma in Best Book Work of the Year 2010 at the Royal Library, Copenhagen, Denmark.

"The Golden Letter" in Stiftung Buchkunst's competition Best Book Design From All Over the World 2010, Frankfurt, Germany.