---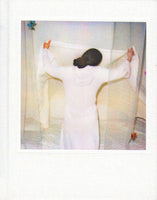 Ylva Sundgren: Inga kan älska som vi / No one can love like we do
Regular price 200 kr
Tax included.
A small pearl, shimmering with longing for love.
The book is about time in between, times when you have no intimate relationship, solitary times of waiting and yearning. Feelings and inner states that I've tried to make room for, trying to take them seriously and embrace them. / Ylva Sundgren

Inga kan älska som vi / No one can love like we do is her first book.
44 color images • Poem by Sanna Svanberg • Translation to English: Linda Schenk • Editing, design and layout: Gösta Flemming, Johan Lindberg, Ylva Sundgren • Hard cover • 100 x 125 mm • 96 pages • Swedish/English • 2010
Selected for the exhibition Tell Me Your Truth, Panoràmic film and photo festival, Granollers, Barcelona, Spain 2020.
Included in 10x10's book catalogue How We See: Photobooks by Women, 2018.