---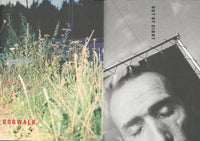 Tina Enghoff/Kent Klich: Dogwalk/Out of Sight
Regular price 360 kr
Tax included.
How do we move within the public space? In what ways do we meet eachother? Is the city – in this case Copenhagen – intended for everybody?
That was the starting point for these two projects by Tina Enghoff (Dogwalk) and Kent Klich (Out of Sight), part of the urban Get Lost-project, developed and curated by the Danish Architecture Center, out of initiative and idea of Enghoff and Klich.
The two books, hold together by a bellyband, documents their exhibition projects.  Included is also a leporello text-sheet with a poem by Carole Naggar, in French and English.  
For Dogwalk Tina Enghoff walked, for one year from November 1, 2006 to October 31, 2007, from Copenhagen Central Station to Heaven Express – a shelter for homeless people – and took photos. Days when she couldn't go, some of her friends walked the patch, 3,5 kilometers long, and picked up objects, which she photographed later. The Dogwalk exposition was arranged along the same patch.

For Out of Sight Kent Klich photographed homeless people when asleep, with their acceptance and co-operation. The Out of Sight-exposition, consisting of 12 portraits of homeless people sleeping, was shown in 12 places where the homeless use to move around or dwell in Copenhagen.

Dogwalk: 402 color images • Poem by Carole Naggar • Soft cover with dust jacket • 150 x 210 mm • 64 pages • English
Out of Sight: 32 b/w and 12 color images • Soft cover with dust jacket •150 x 210 mm • 64 pages • English
Picture editing: Tina Enghoff in collaboration with Fred Ritchin and Carole Naggar • Translation to English: Einar Heckscher • Editor: Gösta Flemming • Design: Tina Enghoff