---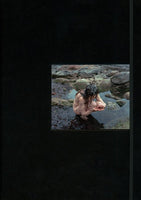 Sara Skorgan Teigen: Fractal State of Being
Regular price 0 kr
Tax included.
My sketchbook is a physical form of my thoughts, my aquifer of ideas and meditations of the world as I experience and learn from it. It is where my psychological truth takes form and manifests. To study patterns in nature and draw them small and concentrated gives me time to meditate on the forms, shapes and expressions they give. Abstract forms are fascinating because they are not familiar to us and therefore when presented or seen – we have to accept them.
In this project I investigate emotions which do not have a physical shape. I use familiar and unfamiliar forms and patterns in nature; micro cosmos, water, skin and hair are used to investigate their physical and psychological expressions. Printing and drawing on and with my own body gives me the experience of edges between the objective and the mental world. By experimenting with my own emotions I perform for, collect, edit and re-edit my sketchbook. / Sara Skorgan Teigen

Fractal State of Being is her first book.

App. 70 b/w and color images and drawings • Editor: Gösta Flemming • Design and layout: Sara Skorgan Teigen • Hard cover • 210 x 295 mm • 48 pages • English • 2014

Shortlisted for the Paris Photo-Aperture Photobook Awards 2014.

Selected in Photo-eye's annual survey Best Books 2014.

Shortlisted for Photo España's Best Photobook Prize 2015, Spain.

Shortlisted for Prix du Livre 2015, Arles, France.

Selected for The Photobook Exhibition, Athens Photo Festival 2015, Greece.

Selected for the exhibition Photobook Space, Fotografia Festival Internazionale di Roma 2015, Italy.