---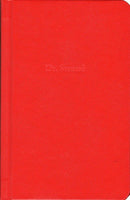 Nina Strand: Dr. Strand
Regular price 350 kr
Tax included.
This personal picture-memoir book about the late Norwegian doctor, feminist and activist Kitty Strand is told by her daughter.
Kitty and Nina Strand were planning a journey across the U.S. that they never had time to take before Kitty passed away in 2001. In 2012 Nina took the trip together with her own daughter in order to revive her mothers thoughts and ideas — for one last time.

62 b/w and color images • Text by Nina Strand • English edit: Linda Sivesind, Melissa Larner • Design and editing: Gösta Flemming, Nina Strand • Hard cover • 94 x 145 mm • 200 pages • Two editions: English and Norwegian • 2015

Diploma in Swedish Book Art Award 2015 at the National Library of Sweden.
Diploma in Grafill's Beautiful Books Award 2016, Norway.

Diploma in Best Book Work of the Year 2015 at the Royal Library, Denmark.

Shortlisted for Photo España's Best Photobook Prize 2016, Spain.

Shortlisted for Prix du Livres, Arles, 2016, France.