---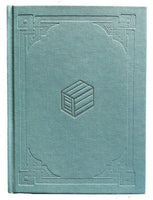 Nils Bergendal: The Name of Us
Regular price 0 kr
Tax included.
Founded in 1735, Lund's Zoological Museum is the oldest of its kind in Sweden. After being housed in several more or less unsuitable locales, in 1916 it was relocated to the spacious new zoology department at Helgonabacken. Turbulent discussions about Darwinism had strengthened zoology as a discipline and given it an authoritative voice within academia. The museum was in its heyday.
In the 1990s, the leadership of Lund University decided to close the exhibitions, a controversial decision not carried out until 20 years later. The collections, numbering over 10 million objects, had to be moved, and a storage facility was built for the purpose in an industrial park.
In June of 2011, the museum closed to the public. A few weeks later, I convinced a friendly curator to let me inside. I walked through the halls, taking my time, realizing that I would probably be the museum's last visitor. In middle school, I had taken a field trip here and seen my great-grandfather's portrait hanging on the wall – he died on an explorer's expedition, apparently after eating spoiled polar bear meat. I stayed at the museum for over a year. / Nils Bergendal
"Nils Bergendal's works echo hollow, leaving an emptiness nonetheless filled, buzzing with the lives of the departed. At its best, this sensation delivers a brand of metaphorical sublimity, casting the viewer out into vast and wild fields of association. Startled before these works, we can only succumb ... It is as though Bergendal with quiet insistence presents us with a message written by the planet's last inhabitant. The Name of Us makes it absolutely clear that this survivor will be a librarian or archivist. Only when history becomes meaningless will it be superbly written. This is nothing to look forward to, but certainly somewhere from which to look back." / Axel Andersson, Konsten.net

The Name of Us is Nils Bergendal's first book.

31 b/w images • Text by Peter Törnqvist and Nils Bergendal • Translation to English: Robin Blanton • Design and editing: Nils Bergendal, Gösta Flemming • Hard cover • 140 x 290 mm • 84 pages • Swedish/English • 2014

Diploma in Swedish Book Art Award 2014 at the National Library of Sweden.
Diploma in Best Book Work of the Year 2014 at the Royal Library, Denmark.