---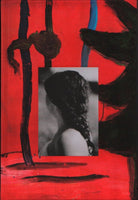 Katinka Goldberg: Surfacing
Regular price 0 kr
Tax included.
I grew up in a world surrounded by women. This work is about the relationship between my mother and me. I photograph the atmosphere between us. What happens between us and what doesn't happen. The way I look at her and the way I sometimes see myself in her. How we as children are shaped by the way our parents see the world.
How do you tell a story without a narrative? A story that is formless and waves back and forth like water, without a concrete beginning or end. The beginning and end is instead created by the book's solid framing between two folders. / Katinka Goldberg
Surfacing is her first book.
"A lot of books are made in the 'diaristic' mode. A lot of books are made about the photographer's relationship with their mother. This is one of the more intelligent and more interesting in a photographic sense." / Gerry Badger

48 b/w and color images • Text-quote by Rainer Maria Rilke • Translation to Swedish: Ola Wallin and to English: Katinka Goldberg • Editing, design and layout: Katinka Goldberg, Gösta Flemming • Hard cover 205 x 305 mm • 76 pages • English • 2011

Included in Parr/Badger's The Photobook: A History volume III.

Selected for the exhibition Without a Destination – the Book as a Photographic Thought, Fotografia Europea photo festival 2015, Reggio Emilia, Italy. 

Selected for Hasselblad Center's exhibition Published – Photo Books in Sweden, Gothenburg Museum of Art 2018.