---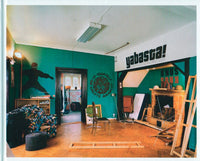 Hendrik Zeitler: A Place of One's Own
Regular price 450 kr
Tax included.
For his first book, Swedish-German photographer Hendrik Zeitler has followed three political co-ops in Norway and Sweden between 2004-09 – Blitz, Ya Basta and Kvarnis. The book is a socio-political study of how these kinds of alternative houses have become free zones for different political movements and debates. He also traces a kind of iconography and aesthetics that are born in these collectives. There is a certain life style, fashion and interiors surrounding them.

82 color images • Foreword by Ana Betancour • Texts by Fredrik Bakkemo, Ola Waagen, Hanna Ohlsson • Translation and proof-reading: Hendrik Zeitler, Linda Hofvander, Elisabeth Nilsson, Roswitha Zeitler • Editing: Gösta Flemming • Design: Jonas Lindblad • Hard cover • 345 x 280 mm • 156 pages • English/German/Swedish • 2011

Shortlisted for Swedish Photobook Prize 2011.

Selected for Hasselblad Center's exhibition Published – Photo Books in Sweden, Gothenburg Museum of Art 2018.