---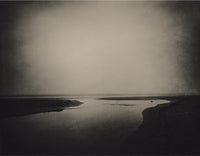 Björn Abelin: Escapes
Regular price 0 kr
Tax included.
Sand dunes covered in grass and flattened by the wind, an expansive field of grain, or the imposing face of a cliff, captured in their emptiness and devoid of any human trace, typify the subjects of Abelin's seemingly timeless photographs. Photographed in different locations throughout Europe 1997 – 2004.

21 b/w images • Epilogue by Ulf Eriksson • Translation to English: Linda Schenk • Editor: Gösta Flemming • Design and layout: Anders Schmidt • Hardcover with dust jacket • 378 x 295 mm • 56 pages • Swedish/English • 2006 

Diploma in Swedish Book Art 2006 at the National Library of Sweden. 

Shortlisted for the Swedish Photobook Award 2007.