---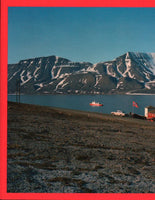 Anthology: Norwegian Journal of Photography #1
Regular price 440 kr
Tax included.
Photo essays by Oddleiv Apneseth, Ingvild Vaale Arnesen, Linda Bournane Engelberth, Andrea Gjestvang, Ellen Lande Gossner, Eivind H. Natvig, Karin Beate Nøsterud, Monica Larsen, Marie Sjøvold and Helge Skodvin. 
The Norwegian Journal of Photography, published every other year, was established in 2010 as an arena where independent photographers who work in the interface between traditional press photography on the one hand and art photography on the other can present the full scope of their projects. It offers an environment that provides encouragement and constructive criticism. 

210 color and b/w images • Introduction text: Alex Webb and Rebecca Norris Webb. • Translation to English: Linda Sivesind • Editing and layout: Rune Eraker, Gösta Flemming, Laara Matsen and Espen Rasmussen in co-operation with the photographers. Design: Gösta Flemming • Published in co-operation with NJP/Fritt Ord • Softcover with flaps • 205 x 265 mm • 384 pages • English • 2013

Winner of Swedish Publishing Award's "Visual Price" 2013.

Diploma in Best Book Work of the Year 2013 at the Royal Library, Denmark.