---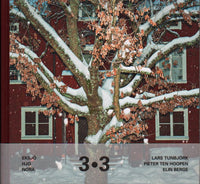 Anthology: 3 • 3 Eksjö Hjo Nora
Regular price 330 kr
Tax included.
Three photo-essays by Lars Tunbjörk, Pieter ten Hoopen and Elin Berge.
Eksjö, Hjo, Nora – three small Swedish wooden towns that have created distinctive profiles through the most Swedish of all: lovely wooden buildings constructed by skilled craftsmen from the 18th century and onwards; buildings beautifully painted in Falu red or linseed oil paint with pigments of ochre, terra or umbra.
That is one truth. Behind the facades live the townspeople; in sorrow and happiness, lives that are sometimes flawed, sometimes perfect, like most people's.
By giving three photographers from different parts of Sweden free hands for their impressions, the three towns would like to add yet another layer of truth to all those that make up a society.
76 color images • Text by Tre Trästäder and Gösta Flemming • Translation to English: Maria Morris • Editing and design: Gösta Flemming • Published in co-operation with Tre Trästäder • Hardcover with bellyband • 242 x 228 mm • 154 pages • Swedish/English • 2013