---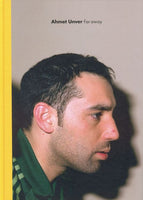 Ahmet Unver: Far Away | Långt borta | Gurbet
Regular price 310 kr
Tax included.
Ahmet Unver's project is a sensitive investigation into Turkish immigrants living in Sweden today. Far Away documents the Swedish landscape and looks at the Turkish community, who still do not feel a part of Swedish society. Unver's parents moved from Turkey to Sweden as migrant workers hoping to someday return to their homeland. These photographs exemplify his feelings of isolation and his search for identity.

Far Away is Ahmet Unver's first book.

44 color images • Afterword by Ülkü Holago • Translation to English: Anna Bergsmedh and to Turkish: Oya Yilmaz Wiberg • Editing: Ahmet Unver, Gösta Flemming • Design: Johan Lindberg • Hardcover • 215 x 300 mm • 60 pages • English/Swedish/Turkish • 2011

Selected for Hasselblad Center's exhibition Published – Photo Books in Sweden, Gothenburg Museum of Art 2018.