---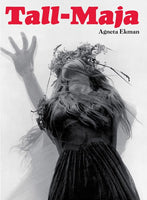 Agneta Ekman: Tall-Maja
Regular price 0 kr
Tax included.
Tall-Maja—that's what they call her the "skogsrået" – the Lady of the Forest – in the forest districts of Värmland in Sweden. Charcoal makers, hunters and foresters could glimpse her among the tree trunks, and tales were told of men who had come under her spell and become very strange.
Photographer Agneta Ekman has made a book about this mysterious forest spirit, both a tale about an erotic relationship between a man and the "skogsrå" and – if you like – about the melancholy we northerners feel in our elusive longing for a life so deeply enmeshed in the richness of our natural world that we can find harmony with our inner selves. They are pictures of dreams and visions and their forest poetry encompass both fears and ecstatic joy.
Bengt af Klintberg's texts originate in authentic folk tales and records of old beliefs about the "skogsrå".

Tall-Maja was first published in 1967. This facsimile edition is very close to the original, but has additional texts about the origin of the book and its reception at the time. There are English translations of all the Swedish texts.

54 b/w images • Text by Bengt af Klintberg and Agneta Ekman Wingate • Translation to English: Kenneth Anderson • Editor: Gösta Flemming • Document: Johan Lindberg • Hardcover with dust jacket • 180 x 240 mm • 84 pages • Swedish/English • 2013

Selected for Hasselblad Center's exhibition Published – Photo Books in Sweden, Gothenburg Museum of Art 2018.