---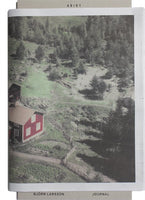 Björn Larsson: 49/51
Regular price 220 kr
Tax included.
Everything put together falls apart, seems to be the red thread in Björn Larsson's new book with images of old abandoned wooden houses and barns in the Swedish countryside. The book is designed in correspondence with its subject – loose sheets hold together by a rubber band and a plastic bag.
The title 49/51 refers to the breakpoint when more people are living in cities than in rural areas. The book contains a before and after perspective using old aerial photographs in combination with a contemporary visual report.

65 color images • Design: Sebastian Wadsted • Small-size loose-sheet tabloid with cardboard insert • 240 x 350 mm • 98 pages • Swedish/English • 2016

Shortlisted for Prix du Livres 2017, Arles, France.