---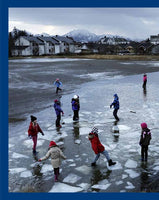 Anthology: Norwegian Journal of Photography #2
Regular price 400 kr
Tax included.
Photo-essays by Terje Abusdal, Jonas Bendiksen, Tomm Wilgaard Christiansen, Anne-Stine Johnsbråten, Ivar Kvaal, Margaret M. de Lange, Mathilde Helene Pettersen and Knut Egil Wang.
 The Norwegian Journal of Photography, published every other year, was established in 2010 as an arena where independent photographers who work in the interface between traditional press photography on the one hand and art photography on the other can present the full scope of their projects. It offers an environment that provides encouragement and constructive criticism.

224 color and b/w images • Introduction text by James Estrin • Translation to English: Linda Sivesind • Editing and layout: Rune Eraker, Gösta Flemming, Laara Matsen, Espen Rasmussen in co-operation with the photographers • Design: Gösta Flemming • Published in co-operation with NJP/Fritt Ord • Softcover with flaps • 205 x 265 mm • 304 pages • English • 2015

Shortlisted for Photo España's Best Photobook Prize 2016, Spain.